History of the Tucson Concert Band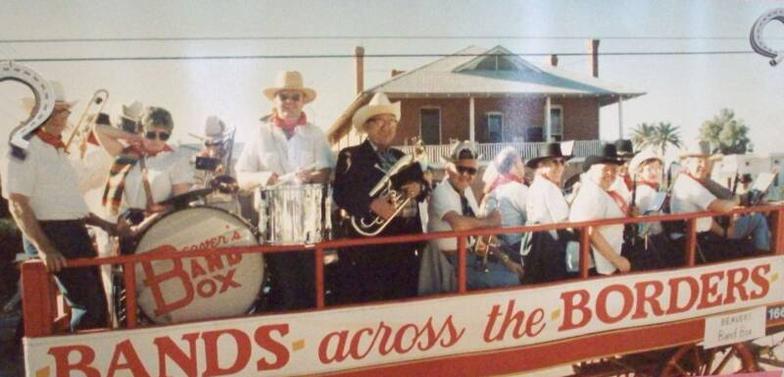 With Howard Beaver playing trombone, Fran Coffey playing drums, Charlie Kline playing trumpet, and Chappie McCannon playing tuba, Tucson Concert Band started one Thursday in late November of 1966. Wesley Haines was waving the baton. Just a few weeks later Ken Hufford, trumpet, Evan Martin, clarinet, Howard Smith, saxophone, Bill Neis and Mort Stern, trombone, joined the group originally named "The Old Timer's Band". By March of 1967, this group of twenty some people was playing concerts — Kiwanis BBQ, Handmaker Nursing Home, Forresters' Old Pueblo Casita, and Cinco de Mayo at El Con. By the July 4, 1967, Jaycee Independence Parade there were forty-six registered members.
At the Salpointe High School concert January 20, 1972 the band was referred to as Tucson Concert Band. George Wilson, alto clarinet, Louis Calavan, and Howard were sharing directing honors. Howard used his 1930 LaFrance fire truck for a band wagon for the POW/MIA parade on the 20th of April in 1973. In 1974, Victor Zimmerman joined the band playing trumpet and helping with the conducting duties.
From May of 1977, through 1979, Paul van Bodegraven, John McMullen, Bob Neil, Wayne Burdick, Tom Lommell, Laszlo Veres, and Bill Richardson had participated in playing and directing the band which was now billed as "Beaver's Tucson Concert Band.
1968 was the first Rodeo Parade in which the band played. Through the years we had a number of different wagons, drivers, and experiences. One year as we were waiting we watched our wagon go by with another group aboard. Another year we had a drunk driver. The year it rained hard, we wore big garbage bags as protective rain gear. During the 1983 parade we culled national coverage. One of the horses slipped, sat, and wouldn't move until the wagon was empty. UPI picked up the photo and it was even printed in "Grit". Some of our slogans were: Old Songs Never Die – They Just Blow Away, Fine Arts Make Fine People, Keep Music in Our Schools, Free People Need Fine Arts, Music is Educationally Sound, Bands Across the Borders, Australia Bound-Expo 88, and Yippie-yi-ay – Listen to Us Play.
In 1983 with band members Lois Burke and Charlie Kline as honor attendants, Lois George and Howard Smith were married. This romance had it's beginning at Thursday evening band rehearsals.
For a number of years starting in 1984, the band played for the Special Olympics. Remember the first year in the rain standing on the football field at Cholla H.S. while kids marched proudly. Later the Special Olympics were at Rincon High School. One year Mo Udall was the special host and another year members of the U of A Basketball Team came to cheer on the participants. We even were asked to travel to Phoenix for the state games. Later in '84 the Green Valley concerts began.
In 1986, to Howard's delight and great effort, we were on the road to Hermosillo, Mexico. Howard was able to set up a weekend trip fit for royalty – for us. We played two concerts, Friday night at a local auditorium and Saturday morning at an arena with many children attending. We all remember Herschel Kreloff's trumpet rendition of the bullfight song and how the kids ran up to him afterwards for his autograph. The food was unbelievable. Dinner was at Saro's, a small Italian Bistro. Entertainment was our own polka band, the Rhinelanders, led by Luella Jacoby, Lucretia, our hostess singing in Spanish, and the owner singing Italian. Our lunch at Xochimilco's was incredible – two Mariachi Bands, beer, tortillas, and wonderful food. Even though we brushed our teeth with Arizona water, some of us did get sick, but it surely was worth it.
1986 also included Toro's games, Jack Lee's "Follow Me", Desert Life Rehabilitation Center, and in November our 20th Anniversary Concert. Our other 1986 trip was to San Diego to play at the Navy Base and at Balboa Park. A bus was rented and off we went. The concerts went well and courtesy of Howard's friend Sam we had a picnic on the beach. Remember Jack Lee conning us into a trip into the desert dunes to create a "B" for Beaver's. We used Ken Hufford's arrangement of "Ragtime Cowboy Joe" for the first time in a concert.
1987 found us dreaming of a trip to Australia for Expo 88 being held in Brisbane. It seemed like an incredible undertaking. Jim Lindberg's (tpt) wife was working for a travel agent, Ross Polling. For two years we did concerts, recycled cans and newspapers, had rummage sales, created a program, got passports and visas, all to get ready for New Zealand and Australia. On 6-28-88 one hundred and one people flew out of Tucson headed for the trip of a lifetime via LA, Honolulu, Auckland, Sydney, and Brisbane. We sang "Ragtime Cowboy Joe" in the Glow Worm Caves in Rotorua, New Zealand. We had two concerts in Auckland. At the mall was the first time we had seen each other in our newly acquired red jacket with the black lapels. We were stunning! We played two concerts in Sydney, and on the Fourth of July at Expo 88 in Brisbane. What a trip!
Our concert schedule continued at a rapid pace including Swan Lake Estates, Pima College, the U of A for the Arizona Memorial Celebration, Special Olympics etc.
After the successful trip west, Howard suggested a trip to Europe. He and Ross put together another package and we were ready to go on another musical adventure. The day before we left, June 13, 1990, Howard and Liz Berk were married in Howard's backyard with the whole band, family, and friends attending. Imagine taking 139 people on your honeymoon. We played in London, Paris, Lucerne, and Amsterdam with an incredible trumpet section. Another fantastic trip!
We participated in ten concerts/festivals in 1992 from the National Prayer Breakfast to TUSD's Fine Arts program. For many years the band was billed as Beaver's Tucson Concert Band. Following Howard's major surgery in 1996 we became a 501(c)(3) non-profit organization and officially became the Tucson Concert Band with a state registered name.
In April of 1996, in a chartered bus TCB traveled to Mesa, Arizona to participate at the Association of Concert Bands Convention. We were the opening band. Howard had been hospitalized for three weeks just prior to our performance so Franklin Dow conducted in his place. Bill Richardson conducted his own "Marcho Syncopatico". Jack Lee and John McMullen also directed.
In 1998, we moved rehearsals from Beaver's Band Box on busy Broadway to TUSD's Rincon High School Band Room. In 1999, Jim Christensen of Disney fame was a guest conductor. It was mutual admiration from the first moment. He referred to us as " What a community band was all about."
For a short time Bob Winslow, retired North Texas State band man, conducted our band. Then from within our own ranks came Herschel Kreloff. Long a member of the trumpet section, Herschel had occasionally directed. Herschel was also the director of Civic Orchestra of Tucson. His wife, Judy Kreloff played string bass and bells with us for years. Unfortunately Judy didn't play concerts in the band under Herschel direction as she passed away in early 1997. Shortly thereafter original member, Charlie Kline, also died. The band is a family affair. Charlie, his son, Roy Kline, and grandson, David, all played in the band together at one time. Bob Neil, sons Tom and Jim, and Jim's son also played in the band. There were three Bakers playing, Lavonne, Beryl, and Serena. Another active family were the Prokops – four Prokop's played in the band….Frank, John, Sharlot, and son John. Shari Starr and daughter Jessica played. Barbara Ball and her daughter Jesse played. Ken Hufford and his son Geoff played. Em and Joyce Barker both played and traveled with us. There are many other instances of related people playing. Add them to our list!
In 2000, Howard Beaver was included in the Tucson Citizen's "Highlights Tucson's 20 Top Musicians." This was a well deserved award for the new member of the American Bandmasters Association. This is a highly regarded membership.
Another of our early members/directors, Bill Richardson passed away in 2000.
October 7, 2001, Col(ret.) John Bourgeois of Marine Corps Band fame was our guest conductor at a concert in Leo Rich Theater. It was the day of the beginning of the Iraqi/Afghanistan wars caused by the attacks on 9-11.
The Tucson Concert Band had it's own web site started by John Prokop in 2002.
In April 2002, another original member passed away. Fran Coffey was a great bass drummer right down to his socks! With a great smile and a cheerful attitude Fran brightened up the rehearsal.
2003 on the Fourth of July saw us celebrating in McDonald Park and Mt. Lemmon was ablaze. The Pace's and Imogene Helm's cabins were on fire. But the spirit of the mountain community continued and the parade is on again in Summerhaven. In 2003 Liz Beaver was elected to the Board of the Association of Concert Bands. Howard and Liz continued to attend these conventions, and tried to entice others to attend.
In 2002 President John Prokop proposed having a song written to honor Howard. Funds to do so were raised by the band and in the fall of 2002, Master Sergeant Joseph T. Spaniola was commissioned to write what he named "Beaver's Delight". On March 14, 2004, this was first performed at Crowder Hall and Joe and his wife, Patti, attended. We all loved it. It was a challenge. It was performed again at our 40th Anniversary Concert and a recorded version was played at Howard's funeral in October of 2005.
Tucson Concert Band became incorporated 1-23-04. That year we received money and music from another 501(c)(3) organization as they were disbanding. Our clarinet player, Gordy Guilbert, had a connection with Tom Lowry from the Puget Sound Music Society in Tacoma, WA and that connection and hearing us rehearse was enough to convince Tom that we'd be the perfect choice for their donation. President John Prokop arranged for the music – several file cabinets full and about 20 boxes of music – to be shipped to Tucson. The Puget Sound Music Society gave us a total of $10,000, all of their music and paid for the shipping. We have really taken advantage of the new music in our concert repertoire in the past few years.
As the Tucson Concert Band, since 1996, the band has had several Presidents. In their order they were Bob Breithaupt, Sonny Solot, Sherri Star, John Prokop, Sue Lewis, John Prokop, George Libman and as this was written, John Prokop.
In September of 2004, John McMullen passed away.
October 3, 2005, dealt another blow as Howard Beaver passed away also. And only a few months later Jack Lee died. In 2007 we lost members Tiney Hill, tpt, and Len Ferrone, tuba, clarinet, repair person.
Without our founder and also because of him we have managed to keep Tucson Concert Band a functioning and growing group of dedicated musicians. All the groundwork and love Howard put into this band will continue as a tribute to him. We continue to attract new members who believe in the group and are dedicated to providing good music for the public, and a place for musicians, both professional and amateur, to enjoy playing music together.
Written By Liz Beaver, July, 2008